Benefits of Being a Member of Young Living Essential Oils
Want to know the benefits of becoming a member of Young Living?
When you buy a Premium Starter Kit you become a member of Young Living and the following benefits apply: 
24% DISCOUNT. Membership gives you a 24% discount on every single Young Living product you buy. EVERY SINGLE ONE!! The only thing you have to do to maintain your membership is to buy at least 50 PV of products per year! (Generally, 1 PV=$1, but not always.) There is absolutely NO membership fee!
Essential Rewards. Membership gives you access to the optional Essential Rewards program, which is the frequent buyers club. When members order through Essential Rewards every month they receive points which they can redeem for free products! This program also gives you the chance to earn free promotional products and gives you discounted shipping!
Events. Membership qualifies you to be able to attend the annual Young Living Grand Convention as well as many other member events world-wide.
Compensation. Membership means you can participate in the optional business of Sharing Young Living with others. For many, this is a natural extension of becoming a Young Living member because they want to tell everyone about it. When members share the joy of essential oils with others and they also join, the member is sent a "Thank-You" check!
The Premium Starter Kit

(Required to become a member of Young Living)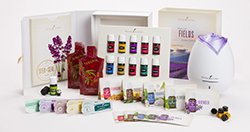 The Premium Starter Kit is what you need to buy to become a member of Young Living. This kit comes with essential oils, a diffuser, product samples, and literature. Everything you need to get a good start with essential oils.
The kit is worth a whole lot more than it costs! Here's the breakdown:
Home (or Dewdrop) Essential Oil Diffuser: $83.88
5 ml Frankincense Essential Oil: $42.88
5 ml Stress Away Essential Oil: $17.36
5 ml Purification Essential Oil: $10.93
5 ml Peppermint Essential Oil: $12.54
5 ml PanAway Essential Oil: $46.38
5 ml Lavender Essential Oil: $13.71
5 ml Copaiba Essential Oil: $25.08
5 ml Thieves Essential Oil: $19.68
5 ml DiGize Essential Oil: $19.10
5 ml Lemon Essential Oil: $6.56
5 ml R.C. Essential Oil: $13.26
2 NingXia Red Samples: $7.41
10 Sample Packets: $13.16
Aroma Glide Roller: $1.28
10 Sample Bottles: $5.00
Product Guide: $4.61
Total Retail Price for the Premium Starter Kit: $342.82
New Member Price for the Premium Starter Kit: $160!
New Member Savings: $182.82!!! It's over half off.
Joining Young Living was an easy and exciting decision for our family. The products have brought us so many wonderful benefits.
If you still need to join Young Living, learn more here. 
Please note that some of the links on this page may be affiliate links.
At no additional cost to you, essential-oil-mama.com could earn a
small commission if you decide to make a purchase by clicking
through those links. Earning revenue through affiliate sales
links is a necessary practice to maintain the website and
continue to provide our users with free content.