Essential Oil Kits
Available from Young Living
Young Living has quite a few essential oil kits available to purchase. I'll cover the Starter Kits first and then go over the other ones available.
Young Living Premium Starter Kits!
The Premium Starter Kits are sooooo fantastic. They are an amazing deal on the products that come in them. My favorite is, of course, the one that comes with essential oils!!
The Essential Oil Premium Starter Kit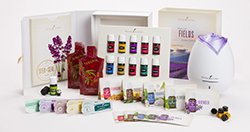 This kit comes with essential oils, a diffuser, product samples, and literature. Everything you need to get a good start comes in this essential oil kit.
The kit is worth a whole lot more than it costs! Here's the breakdown:
Home (or Dewdrop) Essential Oil Diffuser: $83.88
5 ml Frankincense Essential Oil: $42.88
5 ml Stress Away Essential Oil: $17.36
5 ml Purification Essential Oil: $10.93
5 ml Peppermint Essential Oil: 12.54
5 ml PanAway Essential Oil: $46.38
5 ml Lavender Essential Oil: $13.71
5 ml Copaiba Essential Oil: $25.08
5 ml Thieves Essential Oil: $19.68
5 ml DiGize Essential Oil: $19.10
5 ml Lemon Essential Oil: $6.56
5 ml R.C. Essential Oil: $13.26
2 NingXia Red Samples: $7.41
10 Sample Packets: $13.16
10 Empty Sample Bottles: $5.00
Aroma Glide Roller Fitment: $1.28
Young Living Product Guide: $4.61
Total Retail Price for the Premium Starter Kit: $342.82
New Member Price for the Premium Starter Kit: $160!
New Member Savings: $182.82!!! It's over half off.
Buy this kit now!
Learn more about getting this kit with Young Living Essential Oils.
The Thieves Premium Starter Kit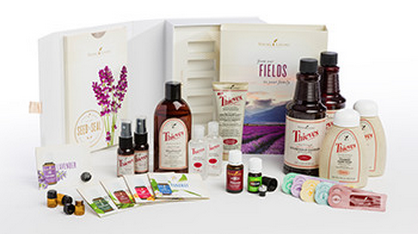 This kit comes with a whole bunch of the Thieves products as well as a bottle of Stress Away essential oil, product samples, and literature. The Thieves products in the kit are:
Thieves Essential Oil
Thieves AromaBright Toothpaste
Thieves Fresh Essence Mouthwash
Thieves Household Cleaner x2
Thieves Foaming Hand Soap x2
Thieves Cleansing Spray x2
Thieves Waterless Hand Purifier x2
NingXia Red Premium Starter Kit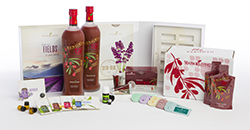 The NingXia Red Starter Kit comes with NingXia Red products as well as a bottle of Stress Away essential oil, product samples, and literature. The NingXia Red products in the kit are:
2 bottles (750ml ea) of NingXia Red
30 Singles (2oz ea) of NingXia Red
14 tubes (20ml ea) of NingXia NITRO
There are also specialty starter kits, such as the Spanish kits, Military Kits, and International kits. But they are basically the same thing. The basic kit only comes with one bottle of essential oil so it's not one I recommend unless you just want the literature.
Other Essential Oil Kits!
Already have your starter kit and are looking for another essential oils kit? Look no further! Here are the essential oil kits available right now: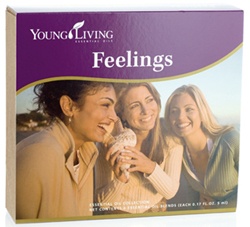 Feelings Kit
This kit was created to promote emotional clearance and self renewal. The six oils in the kit are:

Forgiveness
Harmony
Inner Child
Present Time
Release
Valor

KidScents Collection
I love this essential oils kit. It is one of my most favorite. This kit addresses the most common concerns of childhood. This kit includes six, mild essential oil blends, formulated just for children:
GeneYus
Owie
Bite Buster
TummyGize
SniffleEase
SleepyIze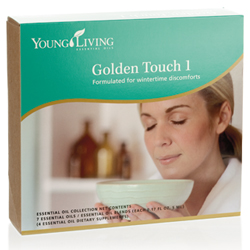 Golden Touch 1
This collection have been specifically created to support many functions of the body. The seven blends include:
Di-Gize

EndoFlex

JuvaFlex

Melrose

Raven

R.C.

Thieves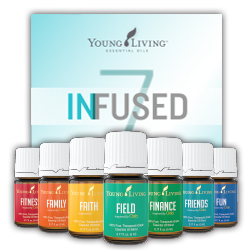 INFUSED 7
The blends in this kit were created to help you connect on a spiritual and physical level as you pursue balance, take action toward your dreams, and pursue your OolaLife. This collection includes:
Faith

Fitness

Finance

Friends

Family

Field

Fun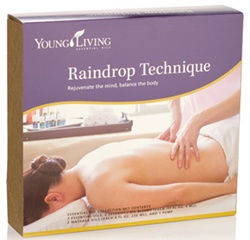 Raindrop Technique
This is one of the most popular essential oil kits Young Living offers. This kit combines aromatherapy, Vita Flex, massage, and essential oils to provide a means of bringing balance and harmony to the body - physically, mentally, and emotionally. It contains nine essential oils and two bottles of carrier oil. The essential oils are:
Thyme
Basil
Peppermint
Oregano
Wintergreen
Cypress
Marjoram
Valor
Aroma Seiz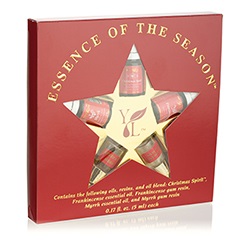 Essence of the Season
This is a special Christmas kit, which combines the holiday's most enduring traditional oils with a delightful seasonal favorite. It comes in a nice gift box and contains:
Frankincense
Myrrh
Christmas Spirit
Frankincense Resin
Myrrh Resin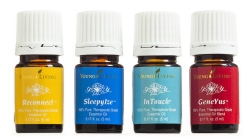 Reconnect
This kit was specially designed to relax the mind and support a determination to stay on task, and to help ground and unite the body, mind, and spirit with real life. The oils can uplift mood and support a positive outlook that allows the mind to react positively and engage with one's surroundings. The oils in this kit are:
Reconnect
InTouch
SleepyIze
GeneYus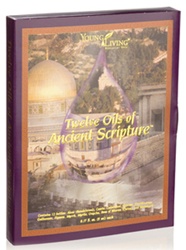 Twelve Oils of Ancient Scripture
This kit contains the twelve most significant oils found in the Bible and was created so others can enjoy the beautiful fragrances and intriguing histories of these precious essential oils. The kit contains these oils:
Aloes/sandalwood
Cassia
Cedarwood
Cypress
Frankincense
Galbanum
Hyssop
Myrrh
Myrtle
Onycha
Rose of Sharon/cistus
Spikenard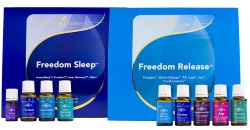 The Freedom Collection
This collection is actually a bundle of two essential oil kits - The Freedom Sleep and Freedom Release Collections. This bundle was created to re-establish a positive energy flow throughout the body, and bring a sense of balance and harmony that attracts love and joy.
The Freedom Sleep Collection helps relax and calm one's thoughts and feelings prior to bedtime. With improved relaxation, the body and mind are rejuvenated, bolstering one's ability to overcome life's challenges. It contains the following four oils:
Freedom
AromaSleep
Inner Harmony
Valor
The Freedom Release Collection helps release feelings of anger and promotes forgiveness, elevating the mind and bringing out the gentle characteristics within oneself for a positive outlook on life. It contains the following five oils:
Freedom
Divine Release
Joy
Transformation
T.R. Care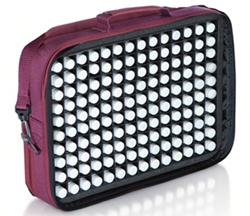 Aroma Complete
Of all the essential oil kits, the Aroma Complete is the biggest kit Young Living offers. (This makes it ideal for massage therapists and other health professionals.) It contains over 120 of Young Living's essential oil singles and blends. This make it increase your ability to address an entire range of optimal health, emotional, and spiritual concerns. The collection comes with the carrying case.
Young Living's essential oils kits are awesome and I highly recommend them. If you are not a member yet, learn how to get your starter kit here or learn more about becoming a member. My all time favorite essential oils kit is the Essential Oil Starter Kit. It's a good thing long-time members can buy it too!
Please note that some of the links on this page may be affiliate links.
At no additional cost to you, essential-oil-mama.com could earn a
small commission if you decide to make a purchase by clicking
through those links. Earning revenue through affiliate sales
links is a necessary practice to maintain the website and
continue to provide our users with free content.